Thursday, February 28, 2008
Wednesday, February 27, 2008
D
ear Two Little Bears Blog Readers,
Have you got a story about Teddy Bears?
Especially, a story about YOU and YOUR TEDDY BEAR
.
Things you used to do together, some memorable incidents, or your feeling toward your Teddy Bear, etc. Anything is OK. If you want to express your love to your bear, that's fine. If you wrote a poem about your bear, that's great! It doesn't matter how long or short the story is.
If you have something you can tell us about you and your Teddy Bear, please send us an email to
teddy_and_pencil (at) yahoo.com
.
We are collecting stories about Teddy Bears.
We would appreciate it if you could send us ANY stories.
We are looking forward to hearing from you.
Love,
Teddy & Pencil
Tuesday, February 26, 2008
"Afternoon Stroll"
S

un!
At last the sun came out today.
It's been rainy and miserable for several days and we couldn't go out at all, so today we decided to have a little walk to a hillside.
Already there are so many different kinds of wildflowers flowering in the field.
It is Spring!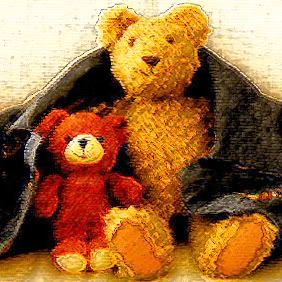 H
i. Welcome to our Teddy Bear blog!
This is a blog done & run by two teddy bears,
Teddy
&
Pencil
, with a little help from our human friends. We live in Spain, enjoying the sun and the sea and the life in general.
Here we share our daily thoughts, views on current affairs and opinions from Teddy Bears' perspective. You can also find some stories about other Teddy Bears and a little information about what we are up to.
You'll find a lot of our photos here as well, because one of the humans we live with loves taking photos. ;-)
We hope you enjoy our blog and come back time to time. If you feel like it, please leave some comments here on this blog, or email us at teddy_and_pencil (at) yahoo.com.
Hugs,
Teddy & Pencil