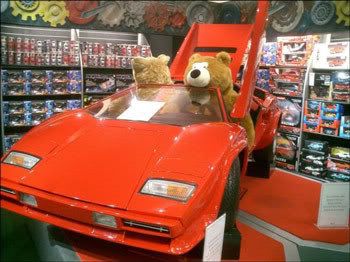 We know that most of people think teddy bears do nothing, just sit around and watch the world by. OK, we admit that some of us actually like to have an inactive life, but not all!

Here's an email we received some time ago with the photo above.

I was in a local toy store and to my shock, two large teddy bears were in a Ferrari. I said, "What in the world are you two doing?"

The driver said, "Waiting to be adopted" and the passenger said, "Sometimes we get bored. So Justin there drives and I do the 'vrrrm! vrrrrm!' noise. Teddy bears need fun, too, you know."

They allowed me to photograph them.

--Chris S.