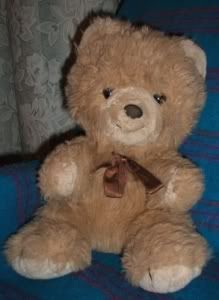 R
ecently, we got to know a very courageous person from Australia. Svasti had a very painful experience, physically and mentally.
On her blog
, she bravely shares her journeys to the wholeness from assault.
When we had a little chat, she mentioned us about her teddy bear "
George Edward
". He's been a faithful companion to Svasti since her late teens. We asked her to show us his photo, and here it is!
He is a good looking bear, isn't he?
You can meet George Edward at
http://svasti.wordpress.com/2008/06/24/for-teddy-pencil/
.
To know more of Svasti's story, please visit her great blog at
http://svasti.wordpress.com/