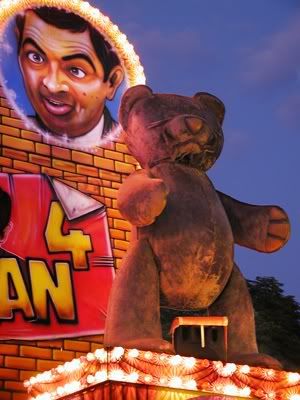 We went to a fiesta held in one of the nearby towns.
All the glittering lights, music, jingles, laughter, smell of waffles and etc...
It was so mesmerizing!

At one of the fun rides, we found this ginormous Teddy Bear towering in front of the picture of Mr. Bean.
He looked very majestic and we felt a little bit intimidated, we didn't get to talk to him.
We regretted it though.
After hours of standing and posing, he might have liked a little cup of honey lemon and a chat with fellow teddy bears....

Next time when we see him at a fair somewhere, we might invite him to come and stay with us for a couple days so that we can fill each other with stories of different places.
If he says yes, we might need to get a huge bed for him.